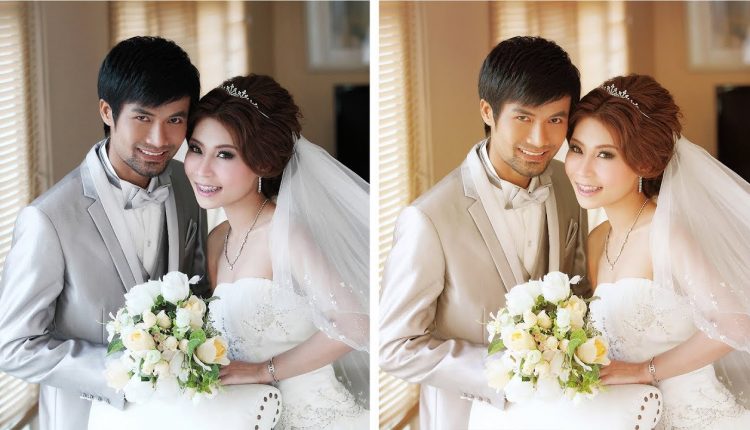 How to Add Color Haze & Tint to Wedding Photos in Photoshop – Create Beautiful Photos Easy & Quick


In this photoshop color grading tutorial, learn how to add color haze to wedding photos in photoshop using sky overlay.
►Download PSD file:
1
00:00:13
How to make your wedding photos instantly beautiful in photoshop.
2
00:00:19
I will show trick that you can color grade your photos easily and quicky.
3
00:00:28
Select any of sky background which contains soft colors like pink, yellow etc.
4
00:00:38
Take move tool, drag sky background and place it to your liking.
5
00:00:58
Go to Blur – apply gaussian blur with maximum radius of 100px.
6
00:01:14
Change blending mode to soft light, it give soft glow and also add color haze to the image.
7
00:01:26
Now we can add color tint of your preference.
8
00:01:34
Select solid color adjustment and pick color of your liking.
9
00:01:42
in this case, I picked brown color (#a67c52).
10
00:01:52
Change blending to soft light.
11
00:02:00
Lower opacity to your preference.
12
00:02:14
You may choose any color of your choice.
13
00:02:33
Add some contrast to expand overall tonal range of the image.
14
00:03:04
Now create a new layer from all the visible layers by pressing Ctrl+Shift+Alt+E.
15
00:03:15
Change blending to Multiply.
16
00:03:23
I want to keep the highlights details and hide the shadows from this layer.
17
00:03:29
Add layer mask and apply image command without invert.
18
00:04:05
If you want change color of sky layer with hue/saturation to get different look.
19
00:04:40
That's it. we're done.
►SUBSCRIBE:
Don't forget to COMMENT, LIKE and SHARE, to get more 🙂
Follow US – LET'S BE FRIENDS!
——————————————
►Official Website:
►FACEBOOK :
►GOOGLE+ :
►Twitter :
►Instagram:
Softwares Used:
—————————-
Photoshop cc 2014, 2015, 2017
Photoshop cs5, cs6,
After Effects cs5
Camtasia Studio
Music:
————
Faith (YouTube Library)
►Check out all related tutorial here :
Wedding Photography Colour Grading in Photoshop – Photo Editing.
How to Add Cinematic Coloring to Wedding Photos in Photoshop.
Apply Cinematic Color Grading To Wedding Photos.
Tinting and Enhancing Colors with the Photo Filter in Photoshop.
Colour Tinting Techniques in Adobe Photoshop for Beginners.
Photoshop Trick: How to Add "Delicious" Color Tints to Portraits.
How to Create a Natural Pastel Photo Effect in Photoshop.
How to Create a Soft Haze Effect in Photoshop.
Thanks for watching our free Tutorials! If you enjoyed our video be sure to subscribe to our channel to receive free new videos.
Check Out Our Playlists:
————————————–
Photoshop Tutorials for Beginners, Intermediate and Advanced users
Easy, Quick and Fast Photoshop Tutorial Series (NEW)
HDR Photography Using Photoshop
Photo Editing, Photo Effects & Photo Manipulation – Special FX
Adobe Camera Raw Filter Tutorials and Preset downloads
(same settings steps for lightroom also)
Color Grading or Coloring in Photoshop
Skin, Face & Body Retouching Techniques and Enhancing Tips
Free Photoshop Actions for Photographers and Designers
Text and Graphics Effects in Photoshop