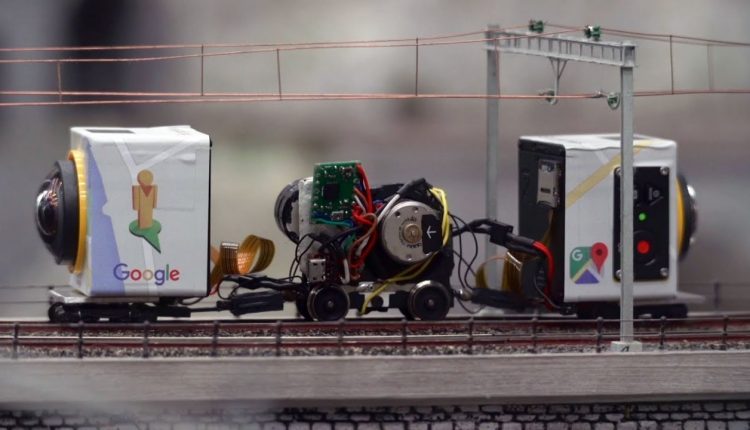 360 Video Camera from Google Street View for Photo Mapping a Model Railway Layout


As you know, in Germany the "Miniature Wonderland" is the largest model railway layout in the world. It is a permanent model railroad exhibition built in HO scale. One year ago, a team from Google made some amazing panorama views with a very special 360° camera. Today, these photos are integrated into Google Street View and into Google Maps. At that time, a secret was made of which camera Google used for making these 360° photos. In this video, Pilentum explains which camera was used. Please, note the info button in the right, upper corner or take a look at
Then, the Kodak PixPro SP360 Action Cam and the Kodak PixPro SP360 4K were used. Of course, the team had to reconstruct the camera so that it was small enough to fit it on the tracks under the overhead power line (catenary). And, the team had to build a small kind of a locomotive in HO scale, which automatically runs on the railway tracks.
The yellow camera housing of the Kodak PixPro SP360 is clearly visible on the Google railcar. This camera is very good for creating 360° panoramic views. Especially when you take a look at the results on Google Street View, the camera's image quality is surprisingly very good. For making 360° photos from the miniature street level, the team constructed a 1/87 scale camera car that drove across the streets. Then, they used the Kodak PixPro SP360 4K Action Cam. The big secret was not the camera itself, but the technique with which the camera was used.
Kodak had released this new camera, which takes video recordings in Ultra High Definition (4K quality), a few months later. If you are interested in the creation of 360° videos, you should take this camera because of the higher video resolution. The camera makes a photo or video with a camera angle of approximately 210°. Therefore, two cameras are required for making a full 360° panorama view: The first camera for the front view and the second camera for the rear view. In the next weeks, probably in September 2017, Kodak will launch a new camera on the market: The Kodak Orbit360 4K PixPro Action Cam. This camera has two lenses for the all-round view forward and backward.
Finally, let's have a look, what the team of Google has produced. It is an outstanding presentation of the "Miniature Wonderland" on Google Maps. Please, go to and click on the last photo at the bottom. You will definitely enjoy this presentation.
Copyright Remarks:
Courtesy of Google Inc.
Courtesy of JK Imaging Ltd.
Courtesy of Miniatur Wunderland GmbH
Music "Rank and File" by Silent Partner