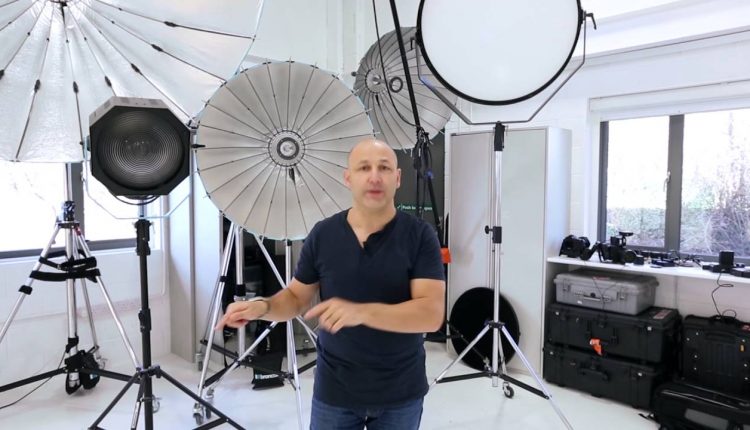 Welcome to my photography workshops. Studio Tour


Welcome to my photography studio.
If you're watching this then you might be interested in attending one of my photography workshops.
I'd like to give you a little bit of a tour of my studio and explain more about my work and what we can offer with these amazing new facilities.
First off, you'll see our main studio area studio space. We have a huge 11 meter by eight metre infinity cove. It's a purpose-built constructed infinity cove – fantastic background for fashion shoots.
You'll see Fabienne working on an example still life set-up (she's just adjusting some reflective cards) for our advertising products still workshop. I'm going to teach you some amazing techniques for fantastic product and still life advertising images.
You'll also get the opportunity to work on this equipment… we've got the very latest state-of-the-art lighting equipment, camera equipment which I'll teach you how to use. If you ever decide to buy or rent this type of kit in the future, you'll understand how to best use it. We've also got more specialized lighting kit available at your disposal.
You can take some great pictures on these workshops and take those pictures home with you.
We've got a meeting area where we'll discuss the projects working together as a team to get the very best results. As part of the training process we have this high resolution projector. When we turn the lights down you've got this amazing image so that you can follow me on photoshop tutorials.
We can do portfolio reviews, we can discuss other photographers work we can look at what makes a great image on my Deeper Understanding workshop. One of the key things is going to be the understanding of basic vision principles, color theory and expanding our knowledge on what makes a great photograph.
In our down time at lunch we've got this lovely breakout area, this relaxing lounge kitchen area here we've got tea, coffee on tap all day. Lunch is provided on the workshops
I believe we've created a very very special place for these workshops, a very special studio… and it's all located here in my home island, the beautiful Channel Island of Guernsey.
A fantastic location with beautiful restaurants, lovely coastal locations, coastal backdrops and a beautiful town for shopping and exploring.
I hope this gives you a little bit more information about our workshops. If you'd like to know more then just contact us for further information.
Thank you very much,
Karl
Reservations:
*********************
Don't miss the next LIVE online photography workshop: