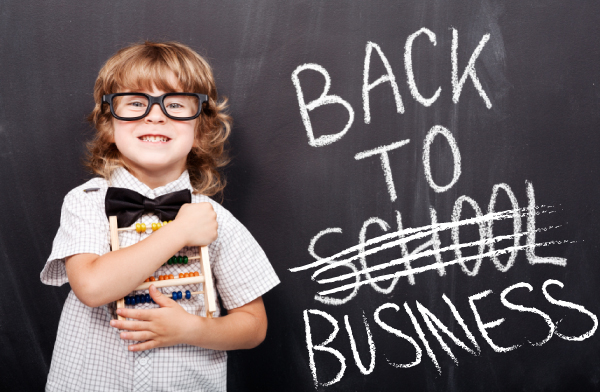 Back to School – Back to Business!
I don't know about you, but my social media feed has been filled with back to school photos from family and friends. My kids are older, and back to school has lost the fun it used to have, but I love seeing my friends reach the milestones I did! Nothing like smiling faces and new backpacks!
With the kids starting a new school year, our focus shifts back to business and doing away with the summer slowdown. Back to school is the perfect time to review your goals and refresh your business!
Here are our top 10 Back to Business Essentials!
1. Has your business grown or changed structure over the last year – speak with a tax professional to be sure that you're meeting the requirements and filing the appropriate paperwork.
2. Take a good look at your schedule, are you overextending yourself? Are you meeting your personal and professional commitments? How are you spending your time, and could you be spending your time more efficiently?
3. Is it time for some support? Maybe it's an in-house personal assistant, a copywriter, social media guru, or just someone to lean on – don't wait until its too late and you're missing commitments!
4. Is your website up to date? When was the last time you re-vamped your copy and images? Do all of your links work the way they should? Is your site mobile friendly and GDPR compliant? Not sure where to start? Send us an email with a link to your site; we're happy to take a quick peek around and provide feedback to get you back on track.
5. When was the last time you increased your rates? September is the perfect time to consider raising your rates and provide notice to your existing clients of a rate change for the coming year.
6. Have you been keeping up with social media? Do you post regularly (text, video or pictures)? Is your blog up to date? Not sure what to write, check out our blog about creating a content calendar for ideas.
7. When was the last time you launched a new product service? Do you have some custom programs that you currently offer clients, that would have a wider appeal? Maybe its time to do an official launch and reach a wider audience?
8. Speaking of a wider audience – what tools are you using to bring in new leads? Are you looking for some fresh ideas? Download our lead magnet whitepaper, or email us to brainstorm the best lead magnets for your business!
9. Research your competition – what products and services are they offering, and at what price point? Are you in line with their offerings?
10. Get out and network! Summer slowdown is over! Networking is fantastic for business, not just to generate leads, and foster connections, but networking is great for practicing your elevator pitch and staying current with trends. You never know what you'll learn!
Back to school means back to business! Get out there and get inspired again! Learn something new! Stuck? We're here to help! Drop us an email for a complimentary consultation. No matter where you are in your business right now, we can help guide you to where you want to be!