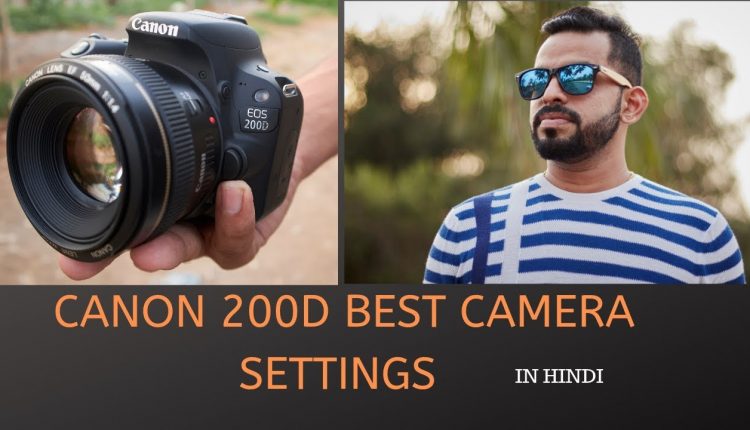 AWESOME OUTDOOR PORTRAIT PHOTOGRAPHY WITH DSLR CANON 200D BEST SETTINGS


I did outdoor photoshoot with canon 200d with 50mm 1.4 usm lens and explained best camera settings for such portraits.Best dslr for learning photography with great sample photos.Must watch tips and hindi tutorial with complete review of canon 200d performance.Beginner photographer must see this video.
#Canon200D #Canon200DSettings #Canon200DTest #ManeeshSaxenaPhotography
Canon EOS 200D 24.2MP Digital SLR Camera + EF-S 18-55 mm f4 is STM Lens, Free Camera Case and 16GB Card Inside
Canon EF 50mm f/1.4 USM Prime Lens for Canon DSLR Camera
This is the gear used for creating this video!
Canon EOS M50 24.1MP Mirrorless Camera (Black) with EF-M 15-45 is STM Lens
Joby Gorillapod 3K Kit Slr Zoom With Ballhead, Flashes Which Holds Devices Weighing Up To 3Kg
Rode VMGO Video Mic GO Lightweight On-Camera Microphone Super-Cardioid
BOYA MIC
Apple iPhone Xs
Macbook Pro
Canon EOS 6D Mark II
Canon EF 24-105mm f/4L is USM Zoom Lens
DISCLAIMER: This video and description contains affiliate links, which means that if you click on one of the product links, I'll receive a small commission. This helps support the channel and allows us to continue to make videos like this. Thank you for the support!
Website : www.maneeshsaxena.com
M9 studio Facebook page :
Maneesh Saxena Photography Facebook page :
M9 Studio Offers :-
Crash Course in Fashion Photography
Fashion Photography Workshops
Studio Rental Services
Photography Gears Rental
Production facilities for catalog,Model Portfolios,Jewellery,Beauty and hair,Portrait Photography etc
Call : +91 9920878178 for more details.