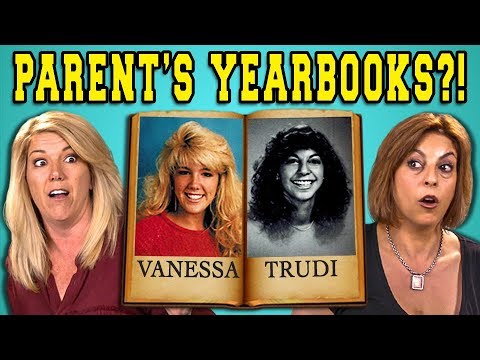 TEENS REACT TO THEIR PARENT'S YEARBOOKS


Parents react their high school yearbooks!
Watch all main React episodes (Kids/Teens/Elders/Adults/YouTubers):
Join the SuperFam and support FBE:
SUBSCRIBE & HIT THE 🔔! New Videos 2pm PT on FBE!
Watch latest videos from FBE:
Parents React to their High School Yearbooks… with their Kids! Watch
to see their Reactions!
Reactors featured in this episode:
Cesar and his daughter, Andrea
Trudi and her daughter, Sophie
Vanessa and her son, Shane
MERCH 👕
Follow FBE:
FBE WEBSITE:
FBE CHANNEL:
REACT CHANNEL:
BONUS CHANNEL:
FACEBOOK:
FACEBOOK:
TWITTER:
INSTAGRAM:
SNAPCHAT:
TWITCH:
AMAZON:
XUMO:
SEND US STUFF:
FBE
P.O. BOX 4324
Valley Village, CA 91617-4324
Creators & Executive Producers – Benny Fine & Rafi Fine
Head of Production – Nick Bergthold
Creative Director & Senior Producer – Derek Baynham
Director of Production – Drew Roder
Director of Post Production – Adam Speas
Supervising Producer – Kyle Segal
Producer – Ethan Weiser
Associate Producer – Vartuhi Oganesyan, JC Chavez
Production Coordinator – Alberto Aguirre
Assistant Production Coordinator – Kristy Kiefer
Post Supervisor – David Valbuena
Editor – Zach Butler
Assistant Editor – Austin Miller
Production Assistant – Lauren Hutchinson, Oscar Ramos, Kyllis Jahn,
Stephen Miller, Jayden Romero, Micah Kearny
Studio Technician – Josh Hilton
Set design – Melissa Judson
Music – Cyrus Ghahremani
© FBE, Inc.
TEENS REACT TO THEIR PARENT'S YEARBOOKS