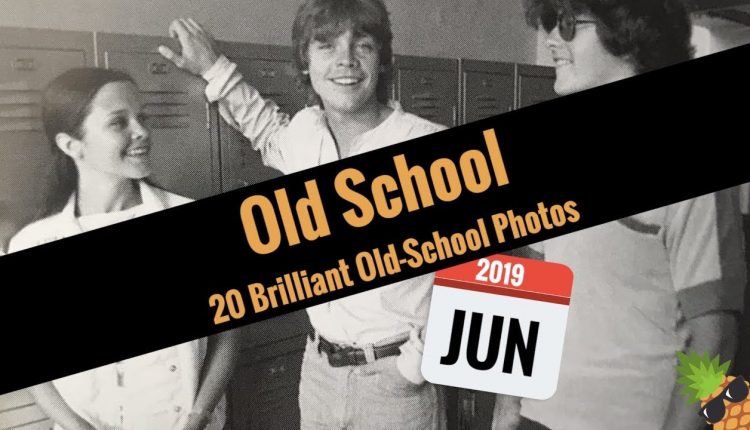 20 Brilliant Old-School Photos (updated June 2019)


Updated for June 2019!
Take a look back at the way we were, with old school photos from the 1950s, 1960s, 1970s, 1980s and 1990s. Who knows, you might see an old photo of your parents, old photo of your aunt & uncle, or an old-school-cool celebrity from back in the day 🙂
Checkout our Youtube Channel:
==== FAIR USE NOTICE ====
IMAGE CREDITS:
(1989) Me, age 4, so stoked for a Ghostbusters…
reddit.com/u/xDanSolo
redd.it/bomkri
a pig ran through grandmas wedding photo – 1927
reddit.com/u/Stroy1
redd.it/bpx460
Pretty neat fad (1950s)
reddit.com/u/69BoyOfMilk69
redd.it/blx9q3
Grandpa still fits in his military clothes even…
reddit.com/u/KNKbarber
redd.it/bnprl2
My Mom about to go on a date, 1972
reddit.com/u/MrDarkHorse
redd.it/bukoxk
The first sunglasses date back to the prehistoric…
reddit.com/u/straydog1964
redd.it/bsqcu3
The original Mad Max Interceptor sitting in a…
reddit.com/u/thevaporroom
redd.it/bmj6cu
Information desk at John F. Kennedy Airport, 1956
reddit.com/u/_NotNowMa_
redd.it/bu9icr
1915 my devastated deaf grandpa and his beloved…
reddit.com/u/TrustMeIaLawyer
redd.it/bro6f1
Mark Hamill in my high school yearbook (1960s)
reddit.com/u/ashunskatah
redd.it/br7or5
My mother in middle school, 1985
reddit.com/u/clever-kat
redd.it/bqa5vn
French troops march past a dog sporting goggles…
reddit.com/u/wistalia
redd.it/bq2jmo
Fashionable ladies France, 1908
reddit.com/u/Y_Nope
redd.it/bsh2n2
A couple ice skating with their baby, 1937.
reddit.com/u/leesun7
redd.it/bn9y1z
The most 90s thing you will see today
reddit.com/u/cristianloza
redd.it/bnh0yt
Queen of Swing, Norma Miller in her heyday…
reddit.com/u/honeyb8794
redd.it/blr0tc
grandma Didi harassing some rando on a flight to…
reddit.com/u/bark-bark-for-pigs
redd.it/br0tzu
My mom in her Sunday best, 1983
reddit.com/u/25375689
redd.it/bl1j1q
Stevie Wonder without sunglasses (1980.) Today is…
reddit.com/u/dobbyisafreepup
redd.it/boczjp
The swimmobile! How my mom learned to swim in…
reddit.com/u/ItsMinnieYall
redd.it/bp7anl
BACKGROUND:
Faro District by Ryan Moreno (unsplash.com/@ryanmoreno)
EMOJI'S:
Freepik (freepik.com) via Flaticon (flaticon.com)
License: CC BY 3.0 (creativecommons.org/licenses/by/3.0)
PINEAPPLE SVG:
Emoji One via Wikimedia Commons
License: CC BY-SA 4.0 (creativecommons.org/licenses/by-sa/4.0)
SUNGLASSES SVG:
Emoji u1f576 via Wikimedia Commons
License: Google Apache License 2.0 (apache.org/licenses/LICENSE-2.0)
PINEAPPLE IMAGES:
Pineapple Supply Co. (unsplash.com/@pineapple)
The Copyright Laws of the United States recognizes a "fair use" of copyrighted content. Section 107 of the U.S. Copyright Act states:
"Notwithstanding the provisions of sections 106 and 106A, the fair use of a copyrighted work, including such use by reproduction in copies or phonorecords or by any other means specified by that section, for purposes such as criticism, comment, news reporting, teaching (including multiple copies for classroom use), scholarship, or research, is not an infringement of copyright."
This video and our Youtube Channel in general may contain certain copyrighted works that were not specifically authorized to be used by the copyright holder(s), but which we believe in good faith are protected by federal law and the fair use doctrine for one or more of the reasons noted above.
If you have any specific concerns about this video or our position on the fair use defense, please contact us at "hello [at] fundistractions [dot] club" so we can discuss amicably. Thank you.