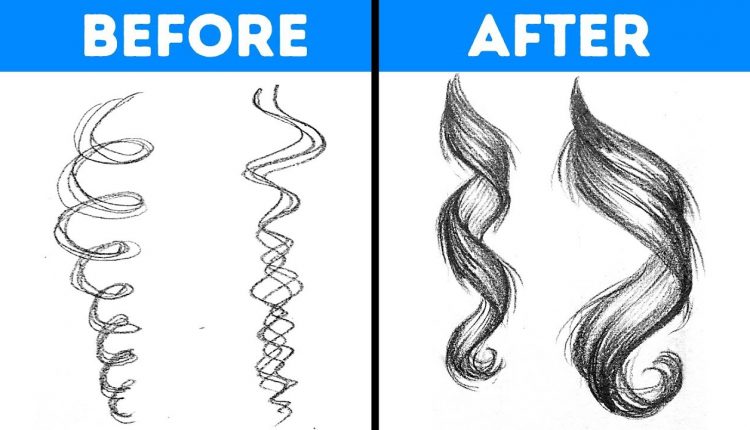 57 DRAWING TRICKS FOR EVERYONE


Amazing drawing hacks for everyone:
If you love drawing or doodling, why not take it a step further and become a master through this small well-constructed drawing tutorial we created for you. Drawing can be used as a form of therapy. It can help you relax and relieve anxiety. So quit everything your doing and go get a sketching pad to start drawing with us.
1. How to draw lips:
When it comes to drawing lips and finding the right proportions for the anatomy of the human lips can be difficult. Instead, od drawing two curves on top and then connecting them with a slighter larger curvy line at the bottom here is what you can do. Draw two circles next to each other, then draw another circle approximately the same size in the middle top of those two circles. Then, use those circles as guides to draw the upper and lower lip. You will see right away the lips you drew now seem more realistic and proportional.
2. How to draw curly hair:
If you are struggling with drawing curly hair, don't worry because you are not the only one. Here is what you can do. Instead of drawing s swirl doing downwards over and over again, draw two parallel lines, then inside those lines start drawing parallel lines again going downwards but let them have some distance between each other. After that connect those lines by drawing more parallel lines behind the ones you just drew to show them a real curl is actually showing. Finally, start shading with your pencil.
3. How to draw an eye for beginners:
If your drawing skills when it comes to drawing eyes are still the same level as they were in primary school, then try this drawing technique. First, draw an almond shape while holding your pencil from a higher point than you normally hold it from. This will allow your hand to draw more freely thus avoid those harsh lines that occur when you hold your pencil. You can try using a 2B pencil, and HB, a graphite pencil or a 4B if you would like a softer essence.
Then when you draw the first almond shape, add more shading on the top part of the eyelid to draw the eyeliner. Shade the inner corner and the outer corner to give your drawing more dimension and enhance the realism effect on this little piece of art. Draw the iris with various shading values to make it look sparkly and then finally draw the eyelashes and the eyebrows.
4. Doodling ideas:
Whether you like doodling in your class, or you recently got into bullet journaling, try some of our doodle ideas in the video to add extra decorations to your bullet journal or your sketchbook. You can create kaleidoscope patterns using graphic design markers or watercolors. In addition to that, you can create an optical 3D illusion drawing using the No 7 as we demonstrate in the video. We create these optical illusions by recreating the structure of a notebook but we keep out some lines in order to create the 3d illusion drawing. It may seem complicated but once you saw such drawing to your friends in school, they will make you the artistic genius of the class.
———————————————————————————————
Timestamps:
0:10 – How to draw lips (2 ways)
0:46 – How to draw curly hair
1:39 – How to draw a portrait for beginners
2:38 – How to draw the female figure simple tutorial
3:15 – How to draw a realistic eye beginners method
4:03 – How to draw a braid
4:15 – How to draw with perfect measurements – Still life
4:30 – How to draw a fashion dress for fashion illustrations
4:43 – How to draw a palm tree
5:02 – How to draw a realistic flower
5:27 – How to draw all types of lips
5:40 – Doodle Ideas – pattern illusion
5:58 – 3D Pattern illusion
6:17 – Fun doodle star – connect the lines
6:45 – Cool arrow doodle pattern for beginners
7:10 – 3D stair drawing – optical illusion
8:08 – Awesome doodling pattern
9:09 – How to draw any animal using numbers
9:50 – Cool Origami art – Dancing Balerina
10:35 – How to draw any animal using circles
12:40 – How to doodle anything using letters
14:07 – 3D Pattern trick
15:33 – How to draw peppa pig
16:17 – How to doodle flowers
16:46 – Pattern Ideas
18:51 – Chess pattern
21:09 – Heart doodle
———————————————————————————————–
Music by Epidemic Sound:
Our Social Media:
Facebook:
Instagram:
Twitter:
Subscribe to 5-Minute MAGIC:
5-Minute Crafts KIDS:
The Bright Side of Youtube:
—————————————————————————————-
For more videos and articles visit:
Music by Epidemic Sound: