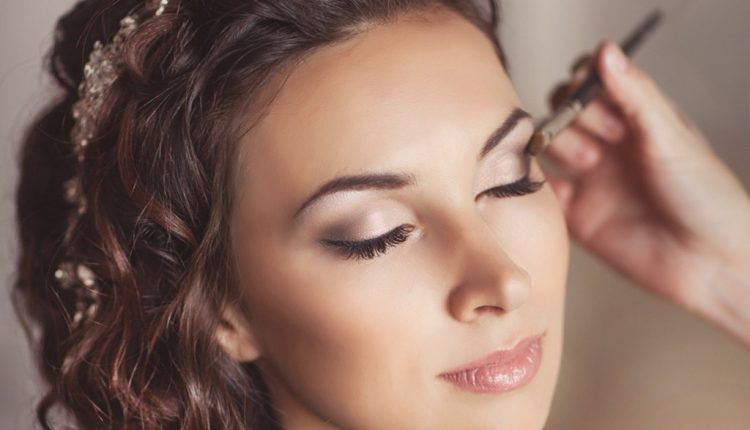 How to Choose a Bridal Makeup Artist for Your Wedding Day
One of the things I hear from brides when they are first looking around for a wedding makeup artist is "I've never done this before, so I'm not really sure what I'm supposed to do." This is true! The majority of brides have never planned a wedding, and many have never hired a professional makeup artist. It can be confusing and overwhelming! I'm writing this as an insider in the industry, to help walk all of you inquiring brides-to-be through the process and to make it as easy and stress-free as possible.
"How do I find makeup artists in my area?"
The first step is to find the artists who service your area and make a list of ones you'd like to look into. Referrals from your venue, wedding planner or photographer are worth their weight in GOLD. They do weddings all the time, have worked with hundreds of other vendors, and know who is good. Most venues and planners have a "Recommended Vendor List" that they are happy to hand out to their booked brides. Photographers are always happy to make recommendations for reputable, talented makeup artists because the great ones make their jobs easier! (Less Photoshop and time spent editing? Oh yes!) Friends who have recently been married can also be a good source of referrals. Ask them who they used and if they'd use them again. And of course, the internet has made this a much easier task than in years past, and a simple internet search of "makeup artists in (insert town here)" should bring up a list of them. So now you have some potential artists chosen…
"How do I choose the right makeup artist for me?"
There are 5 key things to look for when making this decision.
Their website and portfolio – Reputable bridal makeup artists will have a professional-looking website that showcases images of their work. Beware of websites that use stock images or overly edited photos. Also, keep in mind that a tacky looking website is often a sign of tacky taste – and most likely poor taste in makeup. Online portfolios should show a range of different looks, from barely-there natural makeup, to more dramatic evening looks. If only one makeup look is featured on their website, chances are pretty good it's the only look they know how to do, and it's the look you and everyone in your bridal party is going to get.
Style – Does the makeup represented on the makeup artist's website represent the style of makeup you are looking for? If you are into romantic makeup looks paired with dewy skin, you'll want to stay away from the artists who prefer the heavy contour, Instagram-type looks. And vice versa – if you like the heavier Kim Kardashian makeup look, then the artists who showcase more natural makeup looks aren't going to be the right choice for you.
Reviews – There are so many places online for consumers to leave and find reviews. Use them! For wedding vendors, sites like The Knot, WeddingWire and Yelp are fantastic resources. Check out the reviews for each makeup artist you are considering, but keep some things in mind. First, it's become increasingly easier for businesses to set up fake reviews for themselves. If you are scrolling through their reviews and see dozens of 5-star ones all within a few days, that business probably paid people to leave those reviews for them. This is usually done to counteract previous negative reviews, as it boosts up their overall rating. I recommend searching through a businesses reviews by "lowest rating" whenever possible. Second, it's normal for a business to have one or two less than 5-star reviews. Everybody is different and people appreciate different things. 3-stars under value could mean that client didn't value their amazing $100 makeup application as much as they valued their $2000 pair of Jimmy Choo shoes. Also sometimes bad reviews can be left in retaliation if a client was unhappy about not getting their way about something. I wouldn't fret about one or two less than perfect reviews, but if you see a significant number of them, that should be cause for concern.
Personality and Connection – Something that a lot of people don't put much weight on is the personality of a makeup artist and the personal connection you have with them. Their makeup skills are amazing? Fantastic! Their personality not so golden? It's more important than you think. You'll be spending hours with this artist on one of the most important days of your life. You should like them, and want to have them around. Whether it be through email, over the phone, or in person, make sure this makeup artist makes you feel good! Past reviews can be great for this. Look for key phrases like "I felt like I've known her forever!" or "she was so soothing and calming during such a stressful time". Some people are just naturally "people" people. Those are the ones you'll want to hire.
Price – Price is something I have to mention, because it can be such an important deciding factor for so many brides. You'll need to choose a makeup artist who fits into your wedding budget, but keep in mind that in this aspect, you truly do get what you pay for. Makeup artists at the higher end of the price scale are there for a reason: they use high-end quality products, they've paid for special training, they practice proper sanitation (all those disposables and sanitizing products can get expensive!), and they have skills and experience that lesser priced artists usually can't match. For that perfect bridal look you've envisioned, and flawless wedding photos to boot, choose an artist at the top of your price range.
"I know who I want to book, now what?"
The first step, if you haven't already done so, is to confirm availability with the makeup artist of your choice. The best artists book up to a year and a half in advance. That doesn't mean your top choice in artist won't have your date available if it's closer than that, but it's best to reach out as soon as possible. (Those wedding timelines that state to book hair and makeup two months prior to your wedding? So wrong!)
Once availability is confirmed, you'll need to determine if you want to book your artist immediately to reserve your date with them, or schedule a trial run prior to booking. Be aware that scheduling a trial run with your artist prior to booking will not guarantee your date will still be available. Most brides book their dates first and schedule a trial run closer to their wedding – and the early bird gets the worm. Of course, if any part of you is unsure about your decision to hire a particular makeup artist, then a trial run prior to booking is advisable. In this situation I recommend doing one as soon as possible to avoid the possibility of your date being booked by another bride. For all others, book that date!! If they've passed all 5 of the above qualifiers, that's the magic combination.